​

Sample of Daily Clinic Schedule

7:00 – 7:45 Breakfast
7:45 – 8:00 Team to load trucks or boats
8:00 Travel to clinic
8:30 – 9:30 Arrive at clinic
Leadership team to meet with local clinic location hosts to determine set-up configuration
Team members to meet and pray for the day
9:00 – 10:00 Clinic begins
4:00 – 5:00 Clinic end Team to load trucks
Travel to hotel
5:00 – 6:00 Arrive hotel
Team to unload trucks
6:30 – 7:00 Dinner
7:30 – 8:00 Devotion/Debrief
8:30 – 9:00 Prepare for next day's clinic (organize and re-pack)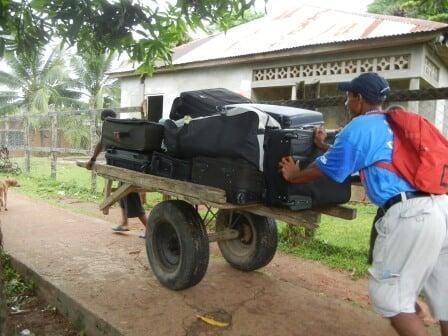 Travel Information and Packing List
Most trips are 6-7 days long and each teammate can bring a carry-on bag and a personal item that can fit under the seat in front of you on the airplane. We need to keep all checked luggage available for donated supplies and medical equipment. Please be sure that your carry-on bag is less than 40 pounds and can fit in an overhead bin. You will not be checking a personal bag so it is imperative that you pack lightly! A FEW heavier or liquid items can possibly be stashed in a checked equipment bag but please keep those to bare essentials. Check your cell phone coverage with your carrier before we depart, it can get very expensive if you don't have an affordable international plan. You may choose to leave your phone in airplane mode until we reach the hotel and you are connected to Wi-Fi before you check e-mail or Facebook.

General Packing List:

· 1 Small carry-on as main luggage (40 pounds or under)

· 1 Day bag / backpack that is a personal bag

· 1 Fanny pack for your camera, phone and anything small you need to keep with you during

clinic. You will need to have your hands free.




· 1 money belt (either around your waist or neck) to be kept under your clothing with room

for

your passport.




· U.S. Passport – in a plastic baggie!!! We had a few that got drenched during a rainy boat ride.

· Bring your original passport and make 2 copies in the event that your passport is misplaced.

Keep one for yourself and leave one behind with a family member. If you haven't already

you need to also give a copy to your team leader.




· Please be sure that your passport is valid for AT LEAST six months after your travel return

date. We don't want anyone left behind!




· Personal photo ID

· Spending money, around $200 (no bills larger than $20 and all need to be without any tears,

creases or writing)




· Credit card

· Medical Insurance card (We provide additional travel insurance for everyone)

· Medical / Diagnostic equipment – BP cuff, stethoscope, penlight, headlamp (we will be in

some poorly lit areas!)




· Vinyl gloves to be used by you personally at the clinical sites.

Everyday Wear:

· Again… PACK LIGHT!

· Pack your clothes in plastic bags or space saver bags (not the kind you have to use a vacuum

cleaner for)




· Comfortable light weight travel clothes for bus and boat rides

· Cotton t-shirts or scrub tops (No tank tops at clinic sites, only at the hotel) At least 4 sets for

clinic and a couple extra, there is no guarantee of laundry facilities.




· Scrubs pants or other lightweight pants (No shorts or skirts at clinic sites, only at the hotel)

· Socks, underwear, sleepwear

Must Haves Packing Checklist:

· Don't forget one long sleeve shirt, hoodie or sweatshirt

· 1 pair of closed toe shoes for clinic day (boots or tennis shoes). It's for your health and safety!

· Rain Jacket / Poncho…. We're probably going to get wet!!

· Flip-flops for showers or other house shoes to wear at the hotel

· Sunglasses, Bandannas, Headband, Visor or Hat

Wet Wipes/Baby Wipes for face and hands




Antibacterial Hand Sanitizer and sanitizer wipes (different from above

)


Toiletries:

· Shampoo / Conditioner / Body wash / Soap / Face Wash

· Razor

· Toothbrush / Toothpaste

· Brush / Comb

· Deodorant

· SUNBLOCK

· Chap-stick
· Travel tissue packs


· Contact solution


· Feminine hygiene items

· Bug spray / Mosquito Repellent with > 33% DEET, preferably higher if you can tolerate

· Please don't forget – ALL toiletries must be < 3oz for travel in carryon's! And NO AEROSOLS!

Personal Health:

· Personal prescription medications

· As needed medications (anti-diarrheals, aspirin, Tylenol/advil, allergy meds, band-aids, eye drops)

· Malaria prophylaxis

· Cipro for personal use

Optional Packing List:

· Bible / Devotional/ Journal

· Camera/Phone/Ipad

· Headlamp / Small flashlight (We will be in some poorly lit areas and the power can be out for hours on end!)

· Nalgene / Water bottle

· Snacks (well sealed, waterproof, bug proof… protein bars, granola bars, trail mix, tuna kits, electrolyte pills, Gatorade / Powerade /electrolyte powders, etc.) Don't bring bottles, we can buy Water and Gatorade there!!

· We stop at grocery stores to stock up on food and snacks such as crackers, chips and other things you may want for lunch. No need to bring any of that.

· A few hard candies or cough drops, the air can be very smoky.

Extra Tidbits of Knowledge:

· Please leave any expensive jewelry, clothing, etc. at home. Try to bring nothing that looks expensive or of great value to you.

· Only wear a plain wedding ring, a simple cross or inexpensive chain.

· Bring plastic bags or Ziploc bags for dirty clothing and to keep things dry inside your carry-on.

· These will be long clinical days so don't forget about your own health and well being… Drink plenty of water! Take Tylenol / Ibuprofen for muscle aches… But most of all… CLOSED TOED SHOES AT CLINIC, MOSQUITO REPELLENT AND SUNBLOCK!

· Try to spray your clothes with Permethrin repellent a few days before you start packing to allow them to dry completely.

· Don't forget to be sure that you are up-to-date on your immunizations. Meet with your doctor or a travel clinic to discuss Malaria prophylaxis and a possible prescription for Cipro for traveler's diarrhea.